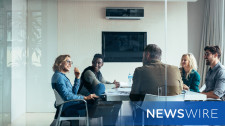 RALEIGH, N.C., October 4, 2023 (Newswire.com) - Newswire, an industry leader in press release distribution, knows firsthand how powerful press releases are in helping business-to-business (B2B) brands stand out from the competition.
In fact, Newswire continues to build on its nearly 20 years of experience and expertise in helping B2B companies, by developing the Press Release Optimizer (PRO).
Newswire's PRO gives B2B companies worldwide the necessary resources to tell their stories, articulate their expertise and position themselves as thought leaders in their respective industries.
"Our team helps our B2B clients find unique ways to differentiate themselves in their respective markets and stand out from the competition," said Jennifer Hammers, Executive Vice President of Sales and Marketing at Issuer Direct. "We believe that implementing innovative strategies, like the ones we develop for our PRO clients, is key to achieving success in the B2B space."
There are three tiers of Newswire's PRO, including:
Content PRO provides support in planning and crafting messaging.
Media PRO is like having a veteran media strategist on the team who helps get more visibility through media outreach.
Total PRO provides both content and media support.
PRO clients have direct access to Newswire's robust SaaS platform, its enriched distribution network and the expertise of its team to create newsworthy stories, launch targeted campaigns, and dig into detailed data to continually refine messaging and strategies to meet and exceed their marketing goals. Newswire has published several case studies outlining these successes.
The result of its comprehensive program has generated hundreds of media mentions in 2023 alone in publications such as Bloomberg, Business Insider, Cheddar, CNET, Forbes, People, TechCrunch, Yahoo! and more, all for a fraction of the cost of working with traditional agencies.
To learn more about Newswire's PRO offerings, visit Newswire.com today.
About Newswire
Newswire is a media technology company that provides its clients with the Press Release Optimizer, which consists of press release distribution, media databases, media monitoring, and online media rooms that power the Media Advantage: greater brand awareness through earned media, increased online visibility through content strategy and planning, as well as greater SEO recognition.
Through its disruptive Press Release Optimizer, relentless commitment to customer satisfaction, and passion for customer performance, Newswire is automating media and marketing communications for large and small businesses seeking to deliver the right message to the right audience at the right time for the right purpose.
To learn more about Newswire and its Press Release Optimizer, visit Newswire.com and discover why our customers have named us #1 for Customer Satisfaction and Ease of Use for four years in a row. For more information, visit https://www.newswire.com.
Newswire is a wholly owned subsidiary of Issuer Direct, a leading communications and compliance company, providing solutions for both Public Relations and Investor Relations Professionals. For more information, please visit www.issuerdirect.com.
Source: Newswire
Share: