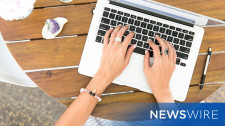 NEW YORK, October 6, 2021 (Newswire.com) - Have you ever found yourself in a conversation with someone who's talking in circles?
By the time they're done speaking, you ask yourself, What was the point?
That's exactly what you don't want to happen when someone finishes reading your press release. You want your press release to cover the most important information in a way that's interesting and easy to read (if you need help structuring your press releases, check out this Smart Start).
At Newswire, our team of Media and Marketing experts knows exactly what to do to not only pinpoint press release topics but craft compelling and newsworthy content.
"You don't want your press releases to be like 'Seinfeld,' a show about nothing. You want your releases to have an anchor point that's elevated by a newsworthy angle and effective storytelling," said Charlie Terenzio, CMO and SVP of Media and Marketing Communications at Newswire. "That's exactly what we do with our clients' press releases. We find an angle, craft compelling copy, and launch targeted campaigns to help our clients distribute the right message to the right audience at the right time."
Chief Marketing Officers, in particular, know how important newsworthy stories are to the success of their media and marketing campaigns.
If the content is stale and misses the mark, their performance suffers. But if their content is captivating and sparks curiosity, odds are they'll create positive outcomes over time. 
To double down on the latter, small and midsize companies of all industries are harnessing the power of press release distribution to build brand awareness, attract website visitors, generate leads, and increase sales.
"The goal, no matter the topic of a press release, is to garner coverage from relevant media publications and to capture the attention of a company's target audience," added Terenzio. 
Through our Media Advantage Plan (MAP), we're combining the expertise of our experts with our enriched distribution network, and robust SaaS platform to generate real results. 
In fact, this year alone, we've earned hundreds of media mentions, thousands of marketing-qualified and sales-qualified leads, and more search traffic for top keywords for our MAP clients.
If you're having trouble pinpointing and developing newsworthy stories, act now and get a free Media and Marketing assessment and 10% off your next press release.
About Newswire
Newswire delivers its best-in-class technology as a service to provide high-impact press release distribution, empowering the Media Advantage: greater brand awareness through earned media, increased traffic, greater search engine recognition, more leads, and increased sales.
Newswire is the only one in the industry that provides the Media Advantage Plan "MAP" that provides press release campaign automation that delivers press releases, media outreach and targeted commercial marketing to provide customers the going-to-market advantage required to compete for the mindshare and market share needed to accelerate sales. The "MAP" provides Newswire experts that customize a media and marketing communications plan and platform that ensures timely campaign production, and in a cost-effective manner that produces more value.
To learn more about press release distribution or the Media Advantage Plan, visit Newswire.com and check out why our customers have named us #1 for Customer Satisfaction in our industry for four years in a row.
For more information, visit http://www.newswire.com.
Contact Information:
Charlie Terenzio
CMO and SVP of Media and Marketing Communications
Newswire
Office: 813-480-3766
Email: charlie@newswire.com
Source: Newswire
Share: