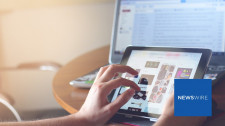 Companies of all sizes and industries can benefit from an online media room, and in its latest Smart Start guide, Newswire explains more.
NEW YORK, July 7, 2021 (Newswire.com) - In addition to its robust SaaS technology and the expertise of its media and marketing team, Newswire, an industry leader in press release distribution, places an emphasis on education.
The company's commitment to empowering the Earned Media Advantage is on display through the publication of its Smart Start educational resource series, which provides readers with valuable insights, tips, and advice on various media and marketing topics including SEO, press release writing, backlinks, and more. 
In its latest Smart Start guide, Newswire explains how a company can get the most out of its media room, which is an online, informational hub that hosts a company's content. It's here companies can include:
Blog posts
Multimedia
News articles
Social media content
Press releases
And more
"From earned media mentions to managing content, an online media room can be used in a variety of ways," said Charlie Terenzio, CMO and SVP of Media and Marketing Communications at Newswire. "We encourage our clients, no matter their industry, to create and optimize an online media room that aligns with their goals and branding."
To learn more about creating an online media room, download Newswire's latest Smart Start Guide. 
About Newswire
Newswire delivers press release and multimedia distribution software and services (SaaS) that empower the Earned Media Advantage: greater brand awareness, increased traffic, greater return on media and marketing communications spend, and the competitive edge. With over a decade of experience, Newswire continues to provide its customers with the ability to deliver the right message to the right audience at the right time through the right medium.
For more information, visit http://www.newswire.com.
Contact Information
Charlie Terenzio
CMO and SVP of Media and Marketing Communications 
Newswire
Office: 813-480-3766
Email: charlie@newswire.com
Source: Newswire
Share: