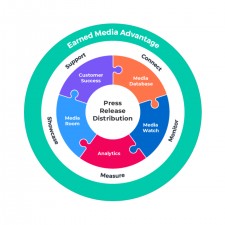 As a client on the Guided Tour, Dale Audrey R.D.H has received multiple media mentions for her Oral Fitness Inc. productsWhite2Nite® and Dale Audrey R.D.H.®.
NEW YORK, May 29, 2020 (Newswire.com) - Dale Audrey R.D.H., owner and founder of Oral Fitness Inc., has grown her company by demonstrating and reiterating the importance of Natural Oral Health and prevention and expanding to offer hand sanitizer to help battle this current COVID-19 crisis. Looking to skyrocket her brand, Audrey signed on with Newswire's acclaimed Earned Media Advantage Guided Tour seeking to increase the company's brand awareness. As a leader and expert in the field, the trusted Dale Audrey RDH® oral care line already has a cult following, as its products are featured in multiple stores across the nation.
"Health & wellness is of the utmost importance and we rely on Newswire to help us relay our message, which is more important than ever," said Dale Audrey R.D.H.
Audrey was connected with an Earned Media Advantage Strategist who has learned the importance of Oral Fitness Inc.'s branding for the two different product lines: White2Nite® and Dale Audrey R.D.H.® and created an Earned Media Advantage Plan which has been implemented during the launch of each campaign. Newswire has helped Audrey launch the rebrand of White2Nite x Marylin Monroe, gaining earned media coverage from Happi.
"Working with Newswire enables our brands to reach a broad, diverse audience in  both the public and private sectors. When we set out to find a qualified Media partner we looked at many options, Newswire stood out from all of the others and we are glad we partnered with them." Roy Perlmuter, President. 
As a leader and expert in the dental industry, Audrey strives to provide her clients with
trustworthy information, as well as a line of effective products. In order to make this
possible, Audrey has worked with the Newswire team to establish her brand as an authority in the space. By distributing stories solidifying her role as an expert leader, coach, and influencer in the dental industry, the team was able to increase her overall brand awareness and secure a key earned media mentions.
"For medical professionals that have their own line of products, reputation management is extremely important," said Charlie Terenzio, VP of Earned Media Advantage Business. "I am thrilled that our team was able to land a mention for Dr. Audrey, as this should help drive traffic to her brand and increase her online presence in the near future."
By providing a fully integrated media and marketing communications strategy to deliver results, customers can have the right plan that is implemented via the right message and sent out at the right time to the right people. Rated No.1 in customer satisfaction, Newswire continues to excel in industry with its best-in-class platform and customer service by providing businesses a cost-effective media and marketing solution to support their sales and marketing efforts.
Find out how Newswire is Transforming the Value of a Press Releases today and learn how you can generate greater value and ROI across all of your PR campaigns.
About Oral Fitness Inc. by Dale Audrey R.D.H.
Founded in 2007, Oral Fitness Inc. by Oral Health Expert Dale Audrey R.D.H., introduced a new breed of natural oral care products. As the daughter of a successful periodontist, Audrey witnessed firsthand the importance of proper oral hygiene. Fueled by a passion for helping consumers get safe and non-toxic products to take proper care of their oral health, Audrey developed a line of all-natural oral health products. 
These products are available on the company's website and in stores across the United States. Visit daleaudrey.com to learn more.
About Newswire​
Newswire delivers press release and multimedia distribution software and services (SaaS) that empower the Earned Media Advantage: greater brand awareness, increased traffic, greater return on media and marketing communications spend and the competitive edge. With over a decade of experience, Newswire continues to provide its customers with the ability to deliver the right message to the right audience at the right time through the right medium.​
To learn more how Newswire can help you, visit http://www.newswire.com.
Source: Newswire
Share: