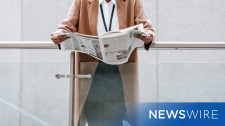 NEW YORK, May 9, 2022 (Newswire.com) - For small and midsize companies, standing out in a crowded marketplace can feel like an uphill battle. It's frustrating. It's defeating. And for many brands, it's enough to make them stop trying altogether.
But it doesn't have to be that way.
Newswire, an industry leader in press release distribution, recognized this common problem and developed a comprehensive solution - Press Release Campaigns.
This innovative service helps companies get the most out of their press release distribution by bundling the resources needed to amplify their press releases and reach their target audience via value-add services.
"Our Press Release Campaigns are made for brands that don't have the bandwidth or experience in developing and distributing highly effective press releases to their target audiences," said Charlie Terenzio, CMO and SVP of Media and Marketing Communications at newswire. "Now, brands can improve the performance of their press releases thanks to our experts who will write, distribute, pitch and place your news to the right media outlets and contacts."
Brands that leverage the power of Newswire's Press Release Campaigns have access to the following bundled services:
Targeted Press Release Distribution
Industry & Trade Media Lists
Detailed Press Release Analytics
Press Release Writing
Guaranteed Media Placements
Targeted Pitch Campaigns
Direct Media Outreach
"This collaborative service helps brands secure earned media mentions, attract more viewership and traffic, measure the effectiveness of their content, better calculate their return on investment and much more," added Terenzio.
To learn more about how Newswire's Press Release Campaigns are helping brands develop comprehensive strategies, craft newsworthy content, deliver strategic media pitches, earn media mentions, grow their audience, expand their reach and more, visit Newswire.com today.
About Newswire
Newswire is a technology company that delivers press release distribution and press release campaigns by leveraging earned media outreach, SEO traffic and email marketing through campaign automation to help businesses land impactful media coverage, drive website traffic, generate leads and grow brand awareness. Through its industry-leading technology and its commitment to customer satisfaction, Newswire provides true value for businesses at a fraction of the cost of other solutions.
To learn more about press release distribution or the Media Advantage Plan, visit Newswire.com or check out why our customers have named us #1 for Customer Satisfaction in our industry for four years in a row.
Contact Information:
Charlie Terenzio
CMO and SVP of Media and Marketing Communications
Newswire
Office: 813-480-3766
Email: charlie@newswire.com
Source: Newswire.com
Share: