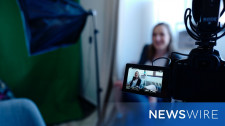 Newswire's Media Advantage Plan client, National Safety Shelters, recently secured a valuable interview with WMBC-TV.
NEW YORK, March 21, 2022 (Newswire.com) - National Safety Shelters is a Port St. Lucie, Florida-based company that's created a multi-purpose solution in school safety. Its Hide-Away®Shelters offer protection from armed intruders and EF5 tornadoes with a modular design that can be formatted to fit any need.
The innovative company that specializes in developing state-of-the-art shelters for protection joined Newswire's Media Advantage Plan (MAP) program with the goal of enhancing its brand awareness and increasing its media exposure through strategic press release distribution and targeted media outreach.
Recently, Newswire facilitated an interview on WMBC-TV that highlighted the work of National Safety Shelters. In the interview, the Owner and President, Dennis Corrado, had the opportunity to speak about how its safety shelters can protect people from natural disasters, such as tornadoes, as well as active shooters.
"Having the opportunity to share our story and talk about the protection our safety shelters provide is crucial to building a strong foundation for future success," said Corrado. "We're confident our partnership with Newswire will lead to more earned media coverage that'll help us reach our target audience and continue to protect people from harm."
As a MAP client, Newswire continues to act as an extension of the National Safety Shelters team to leverage press release distribution, identify media opportunities, create compelling stories, launch targeted campaigns, and provide reports on overall performance.
"National Safety Shelters is committed to keeping people safe and our team at Newswire is committed to helping them expand their reach and do just that," said Charlie Terenzio, CMO and SVP of Media and Marketing Communications at Newswire. "As a MAP client, we're focused on turning National Safety Shelters' owned media into earned media to help them strengthen their credibility within the market."
WMBC-TV serves the New Jersey-New York metropolitan area and reaches more than 7 million TV households a year with its 24-hour program schedule.
About National Safety Shelters
National Safety Shelters produces a complete line of American-made safety pods, safety shelters and safe rooms designed and built to give individuals instant access to protection from violent attacks and destructive tornadoes or earthquakes.
About Newswire
Newswire delivers press releases and multimedia distribution software and services (SaaS) that empower the Earned Media Advantage: greater brand awareness, increased traffic, greater return on media and marketing communications spend, and the competitive edge. With over a decade of experience, Newswire continues to provide its customers with the ability to deliver the right message to the right audience at the right time through the right medium.
For more information, visit http://www.newswire.com.
Contact Information
Charlie Terenzio
CMO and SVP of Media and Marketing Communications
Newswire
Office: 813-480-3766
Email: charlie@newswire.com
Source: Newswire
Share: