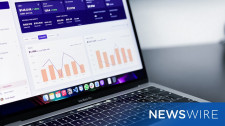 Newswire, an industry leader in press release distribution, shares why press releases are a valuable marketing vehicle.
NEW YORK, March 31, 2022 (Newswire.com) - Every business has its own unique marketing strategy that guides them closer to capturing market share and the attention of its target audience.
More times than not, these strategies include content marketing, social media marketing, and paid advertising. When used correctly, these channels are valuable, however, companies are missing out on one that's proven to expand reach and earn media mentions.
That marketing channel is press release distribution.
Newswire, an industry leader in press release distribution, continues to help brands of all sizes and industries distribute the right message to the right audience at the right time.
Through strategic press release distribution and targeted outreach, Newswire's clients are earning media mentions in publications such as Fast Company, Forbes, The Wall Street Journal, Yahoo!, USA Today and more.
A major key to Newswire's success is infusing press release distribution into a company's overall marketing strategy.
"It's easy to silo each marketing channel based on the purpose it serves," said Charlie Terenzio, CMO and SVP of Media and Marketing Communications at Newswire. "But companies that leverage press releases in coordination with their other marketing efforts are the ones reaping the benefits."
When helping its clients develop and implement a media and marketing communications strategy, Newswire connects the dots between each marketing channel to create a sense of cohesion.
For instance, the power of a press release can be used to ignite content creation across various marketing channels. Let's say a company just released a brand-new industry report. The press release announcing the publications can be used as the foundation for:
Organic social media posts
Email marketing campaigns
Blog post on the company website
"The sooner brands realize how integral press releases are to the effectiveness of their overall marketing strategy, the sooner they'll start to generate true value and real results," Terenzio concluded.
To learn more about how Newswire's integrated solutions are helping small and midsize businesses craft media pitches, earn media mentions, grow their audience, expand their reach, and implement an effective go-to-market strategy, visit Newswire.com today.
About Newswire
Newswire delivers press releases and multimedia distribution software and services (SaaS) that empower the Earned Media Advantage: greater brand awareness, increased traffic, greater return on media and marketing communications spend, and the competitive edge. With over a decade of experience, Newswire continues to provide its customers with the ability to deliver the right message to the right audience at the right time through the right medium.
For more information, visit http://www.newswire.com.
Contact Information:
Charlie Terenzio
CMO and SVP of Media and Marketing Communications
Newswire
Office: 813-480-3766
Email: charlie@newswire.com
Source: Newswire
Share: