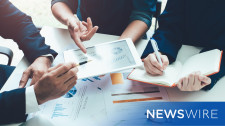 Newswire's innovative press release distribution services provide CEOs with the information needed to refine their messaging and improve their targeting to distribute the right message to the right audience at the right time.
NEW YORK, July 19, 2022 (Newswire.com) - As an industry leader in press release distribution services, Newswire empowers business leaders to lean on data collection and analysis to better understand the reach and effectiveness of their press release campaigns.
Chief Executive Officers (CEOs) of companies in the business services, healthcare, technology and countless other industries use Newswire's analytics to help measure brand awareness, online visibility, media coverage and the overall impact these areas have on business growth.
"Press releases are powerful marketing vehicles companies can use to build brand awareness, attract website visitors, generate leads, improve sales and much more," said Kyle Metcalf, President and Chief Revenue Officer at Newswire. "On their own, press releases can only take a company so far. CEOs and their marketing teams need to feed their press releases with the data they've collected from previous campaigns to fine-tune their approach, generate real results and create true value."
Clients that partner with Newswire receive detailed and digestible reports with each press release that highlight key insights into the engagement, geography and reach of their campaign.
This data acts as a springboard that companies need to test alternative messaging, calls-to-action and more.
In fact, when asked what he liked best about Newswire, Josh S., who's the Chairman & CEO of his company, gave the following feedback: "Monthly reports, analytics and their PR writing abilities. I loved their ability to present a monthly report that put everything in perspective."
Through Newswire's reporting capabilities, expertise and robust SaaS platform, clients have earned valuable media mentions in popular publications such as Cheddar, CNET, Bloomberg, Forbes, TechCrunch, The Wall Street Journal and many more.
To learn more about how Newswire's integrated solutions are helping small and midsize businesses craft newsworthy content, deliver strategic media pitches, earn media mentions, grow their audience, expand their reach, and implement an effective go-to-market strategy, visit Newswire.com today.
About Newswire
Newswire is a media technology company that provides software delivered as a service to power press release distribution, media databases, media distribution networks, media monitoring, analytics, newsrooms, and earned media to generate brand awareness, increase online visibility, secure marketing inquiries and increase sales for customers worldwide.
Newswire combines best-in-class science, process and technology to provide its customers the ability to deliver the right message to the right audience at the right time to maximize their returns on media and marketing communications spend.
To learn more about press release distribution or the Media Advantage Plan, visit Newswire.com or check out why our customers have named us #1 for Customer Satisfaction in our industry for four years in a row.
Contact Information:
Charlie Terenzio
CMO and SVP of Media and Marketing Communications
Newswire
Office: 813-480-3766
Email: charlie@newswire.com
Source: Newswire
Share: