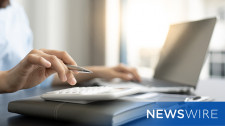 Newswire shares how strategic press release distribution when leveraged correctly can be a valuable investment for companies.
NEW YORK, June 30, 2022 (Newswire.com) - As a Chief Financial Officer (CFO), it's your job to understand the big picture of your organization's financial standing now and in the future.
When it comes time to budget for media and marketing communications initiatives, a CFO wants to know the money spent will create an impressive return on investment (ROI).
But, with so many options available, how does a company determine the best use of their money to build brand awareness, attract website visitors, improve search engine optimization (SEO) performance and more?
An often overlooked but valuable marketing initiative is consistent and strategic press release distribution.
"At Newswire, we've seen time and time again how press release distribution can generate positive outcomes and true results for a fraction of the cost of what companies would typically pay to partner with a traditional agency," said Charlie Terenzio, CMO and SVP of Media and Marketing Communications at Newswire.
As an industry leader in press release distribution services, Newswire continues to help companies all over the world set themselves apart from their competitors.
This innovative company is able to achieve positive outcomes by leveraging a blend of its robust SaaS platform, enriched distribution network and the expertise of its team.
All these components work together to help Newswire help its clients create newsworthy stories, launch targeted campaigns, provide reports on overall performance, and continually refine messaging and strategies to meet and exceed their marketing goals.
In fact, its cost-effective and comprehensive Media Advantage Plan (MAP) program is driving real results for its clients by landing media coverage in outlets like Business Insider, CNBC, CNET, Forbes, USA Today and many more.
"We've disrupted the press release distribution space in the best way possible to help companies amplify their messaging and CFOs realize a strong return on their spend," added Terenzio.
If you're ready to increase your potential of making more money by spending less money and generating results you've always dreamed of, visit Newswire.com today.
About Newswire
Newswire is a technology company that delivers press release distribution and press release campaigns by leveraging earned media outreach, SEO traffic and email marketing through campaign automation to help businesses land impactful media coverage, drive website traffic, generate leads and grow brand awareness. Through its industry-leading technology and its commitment to customer satisfaction, Newswire provides true value for businesses at a fraction of the cost of other solutions.
To learn more about press release distribution or the Media Advantage Plan, visit Newswire.com or check out why our customers have named us #1 for Customer Satisfaction in our industry for four years in a row.
Contact Information:
Charlie Terenzio
CMO and SVP of Media and Marketing Communications
Newswire
Office: 813-480-3766
Email: charlie@newswire.com
Source: Newswire
Share: