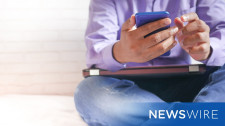 Newswire shares how concise and simple messaging can improve readability for more effective press release content.
NEW YORK, January 5, 2022 (Newswire.com) - Wait, what?
If a reader has that kind of reaction after consuming a brand's press release content, it's time to focus on readability.
That head-scratching moment is one that companies want to avoid when creating press release content. That's because press releases are intended to address the most important information: who, what, where, when, why, and how.
The 5 Ws + How make up the foundation of the inverted pyramid and can improve a company's ability to not only reach its target audience but the media as well.
Beyond the structure, a major component of writing an effective press release is its readability, and that's the topic Newswire, an industry leader in press release distribution, covered in its latest Smart Start guide.
"Readability matters and our team at Newswire places an emphasis on it to help our clients maximize the effectiveness of their press release content," said Charlie Terenzio, CMO and SVP at Newswire.
When it comes to readability, simplicity reigns supreme, and in its Press Release Readability Matters Smart Start, Newswire covers a number of topics including:
Press release basics.
What's a readability score?
How does press release readability affect SEO?
Tips to improve a press release's readability score.
"This Smart Start is an excellent resource that provides actionable tips and advice companies, no matter their size or industry, can leverage to improve their press release's readability score," Terenzio added.
Download the Press Release Readability Matters Smart Start guide.
About Newswire
Newswire is a technology company that delivers press release distribution, earned media outreach, SEO traffic, and lead generation through campaign automation to help businesses land impactful media coverage, drive website traffic, generate qualified leads, and grow brand awareness. Through its industry-leading technology and its commitment to customer satisfaction, Newswire provides true value for businesses at a fraction of the cost of other solutions.
To learn more about press release distribution or the Media Advantage Plan, visit Newswire.com and check out why our customers have named us #1 for Customer Satisfaction in our industry for four years in a row.
For more information, visit http://www.newswire.com.
Contact Information:
Charlie Terenzio
CMO and SVP of Media and Marketing Communications
Newswire
Office: 813-480-3766
Email: charlie@newswire.com
Source: Newswire
Share: