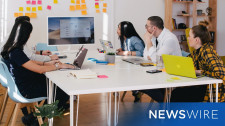 NEW YORK, April 5, 2022 (Newswire.com) - Newswire, an industry leader in press release distribution services, puts the experience and expertise of its team to use every day to help companies of all sizes and industries turn their owned media into earned media through strategic press release distribution.
As a refresher, a press release is a compelling and concise news story that's typically written by a public relations professional and distributed to targeted media sources to announce something newsworthy.
In addition to consistency and strategy, a key component to success and driving results when it comes to press release distribution is storytelling.
In fact, according to Search Engine Watch, storytelling can boost conversion rates by 30%.
With this statistic in mind, how can companies harness the power of storytelling when developing press release content?
Here are a few ideas to consider:
When writing your next press release, think of yourself as the narrator. How can you create context and set the scene for the message you're articulating to your target audience? Remember, press releases should be part of your overarching media and marketing strategy. Use this marketing channel as a means to share your brand's voice and position in the marketplace.
Think about the reader. Why should they care about your company? Why should they care about your new product or service? Try to imagine the experience they're going to have with your brand. How can you provide value? Use the words and structure of your press release to guide them towards the solution your brand provides.
Create connection. Developing a newsworthy angle is a crucial step in leveraging storytelling in your press releases. Once you've identified your topic and angle, think about how to excite and entice your target audience with your words. Be concise and keep in mind how you tell your story is just as important as the story itself.
"Press releases that infuse a layer of storytelling have a better chance of capturing the attention of the media and the company's target audience," said Charlie Terenzio, CMO and SVP of Media and Marketing Communications at Newswire. "Newsworthiness and storytelling go hand-in-hand, and both are integral factors that determine the success of a press release."
To learn more about how Newswire's integrated solutions are helping small and midsize businesses craft media pitches, earn media mentions, grow their audience, expand their reach, and implement an effective go-to-market strategy, visit Newswire.com today.
About Newswire
Newswire delivers press releases and multimedia distribution software and services (SaaS) that empower the Earned Media Advantage: greater brand awareness, increased traffic, greater return on media and marketing communications spend, and the competitive edge. With over a decade of experience, Newswire continues to provide its customers with the ability to deliver the right message to the right audience at the right time through the right medium.
For more information, visit http://www.newswire.com.
Contact Information:
Charlie Terenzio
CMO and SVP of Media and Marketing Communications
Newswire
Office: 813-480-3766
Email: charlie@newswire.com
Source: Newswire
Share: