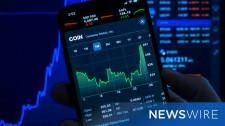 NEW YORK, April 28, 2022 (Newswire.com) - Clear and consistent communication is especially important for companies looking to connect with investors.
A steady flow of timely information builds authority, credibility and trust with a company's target audience, investors and the media.
"For public companies, in particular, press releases prove to be a powerful marketing channel that keeps current investors informed of the latest news and attracts the attention of potential investors as well," said Charlie Terenzio, CMO and SVP of Media and Marketing Communications at Newswire.
As an industry leader in press release distribution, Newswire is helping its clients create compliant press releases that are distributed to financial media outlets, delivered to investor networks, and include SEC-compliant disclosures.
Newswire's approach to regulatory compliant press release distribution for large publicly traded companies includes:
Compliant financial disclosure.
Up to six hyperlinks in a press release.
Featured image.
1,200 words included.
Targeted trade publications list (three included).
Detailed analytics report.
Embedded video (add-on).
In addition to these valuable offerings, Newswire empowers public companies to deliver the right message to the right audience at the right time through strategic and newsworthy press release content. When drafting a press release for investors, consider the following components:
Headline - Include the company name and a preview of the news in the press release.
Subheadline - Support the headline with additional details about the release's main topic.
Keywords - Include the company name and relevant keywords in the headline and subheadline.
Content - Address the 5 W's (who, what, when, where, and why) to ensure important information is addressed in an orderly fashion.
Numbers - Include facts and figures as this is the information investors are interested in. When applicable, create a visual (charts, graphs, etc.), as they're seven times more likely to be picked up by the media.
Quotes - The quote should include relevant information that builds on the main topic of the press release.
Multimedia - Choose high-quality photos and/or videos that support the overall story and message of the press release.
Links - Include links (make sure the anchor text is a relevant SEO keyword) to drive quality traffic to the website and give search engine rankings a boost.
By highlighting growth within a business through hyper-targeted press release distribution, public companies are able to clearly articulate and showcase their momentum to employees, current and potential investors, and the media as well.
To learn more about how Newswire's integrated solutions are helping public companies craft newsworthy content, deliver strategic media pitches, earn media mentions, grow their audience, expand their reach, and implement an effective go-to-market strategy, visit Newswire.com today.
About Newswire
Newswire is a technology company that delivers press release distribution and press release campaigns by leveraging earned media outreach, SEO traffic and email marketing through campaign automation to help businesses land impactful media coverage, drive website traffic, generate leads and grow brand awareness. Through its industry-leading technology and its commitment to customer satisfaction, Newswire provides true value for businesses at a fraction of the cost of other solutions.
To learn more about press release distribution or the Media Advantage Plan, visit Newswire.com or check out why our customers have named us #1 for Customer Satisfaction in our industry for four years in a row.
Contact Information:
Charlie Terenzio
CMO and SVP of Media and Marketing Communications
Newswire
Office: 813-480-3766
Email: charlie@newswire.com
Source: Newswire
Share: