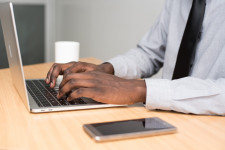 NEW YORK, April 5, 2021 (Newswire.com) - Since 2004, Newswire has helped its customers achieve the Earned Media Advantage by acting as an extension of their teams to identify media opportunities, craft compelling stories, launch targeted campaigns and provide reports on overall performance.
All of this and more has enabled the company to be recognized year after year as an industry leader by G2.com for its user-friendly and easy-to-use platform. 
As a result, Newswire has seen a steady increase in the number of small and mid-size businesses that are capitalizing on its press release distribution and media outreach services.
"Our platform can be used by businesses of all sizes and industries," said Charlie Terenzio, CMO and SVP of Media and Marketing Communications at Newswire. "We've noticed a steady increase of small and mid-size businesses who are partnering with us to leverage the power of our software and the expertise of our team to capture the attention of their target audience." 
The company's innovative and industry-leading solutions continue to help these companies compete with larger brands in their respective industries to build brand awareness, improve SEO, and increase their potential for earned media mentions in credible and relevant industry publications. 
When customers sign up for the Earned Media Advantage Guided Tour program, they learn the importance of combining the power of the platform with the expertise of the Newswire team to maximize their potential reach and deliver the right message to the right audience at the right time. 
In fact, C-suite level executives and decision-makers from all industries have enjoyed the results from the Guided Tour program including but not limited to:
Connecting with relevant media publications
Boosting SEO rankings
Increasing qualified sales opportunities
Improving the overall impact of their media and marketing campaigns
The program includes a dedicated Earned Media Advantage Strategist who personally connects with each customer to better understand their business needs to create a customized plan to ensure customer success. 
Learn how your business can build brand awareness, improve SEO, increase website traffic and boost sales with our Earned Media Advantage Guided Tour program by visiting newswire.com. 
About Newswire
Newswire delivers press release and multimedia distribution software and services (SaaS) that empower the Earned Media Advantage: greater brand awareness, increased traffic, greater return on media and marketing communications spend and the competitive edge. With over a decade of experience, Newswire continues to provide its customers with the ability to deliver the right message to the right audience at the right time through the right medium.
To learn about and experience Newswire, visit http://www.newswire.com.
Contact Information
Charlie Terenzio
Newswire | CMO and SVP of Media and Marketing Communications 
Office: 813-480-3766
Email: charlie@newswire.com
Source: Newswire
Share: