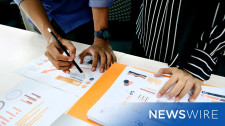 RALEIGH, N.C., September 28, 2023 (Newswire.com) - For some small business owners, standing out and securing market share can feel out of reach. With a 24/7 news cycle, a crowded market, steep competition, and more marketing channels to consider than ever, small businesses often feel there's no way to break through the noise.
But Newswire has created a solution to this problem — its Press Release Optimizer (PRO).
This innovative program provides small businesses the resources and expertise to properly leverage press release distribution to gain a competitive edge.
"For small businesses, especially, building brand awareness and attracting the eyes of their target audiences is crucial for their future success," said Jennifer Hammers, Executive Vice President of Sales and Marketing at Issuer Direct. "That's why we've developed a program that leverages a consistent and strategic approach to press release distribution that turns our clients' owned media into earned media."
Press releases are a tried-and-true marketing channel that directly connects brands with their target audiences and, when done correctly, attracts the attention of relevant media publications.
Newswire's PRO clients know firsthand how beneficial press releases can be in building brand awareness, attracting website visitors, generating leads, and increasing revenue at a fraction of the cost of working with a traditional ad agency.
"Small business owners have enough on their plates, and PRO is designed to free their bandwidth to focus on other initiatives that'll move the needle while we focus on generating positive marketing outcomes through press release distribution," added Hammers.
To learn more about how Newswire's press release distribution services are helping small businesses earn media mentions, grow their audience, expand their reach, and implement an effective go-to-market strategy, visit Newswire.com today.
About Newswire
Newswire is a media technology company that provides its clients with the Press Release Optimizer, which consists of press release distribution, media databases, media monitoring, and online media rooms that power the Media Advantage: greater brand awareness through earned media, increased online visibility through content strategy and planning as well as greater SEO recognition.
Through its disruptive Press Release Optimizer, relentless commitment to customer satisfaction, and passion for customer performance, Newswire is automating media and marketing communications for large and small businesses seeking to deliver the right message to the right audience at the right time for the right purpose.
To learn more about Newswire and its Press Release Optimizer, visit Newswire.com and discover why our customers have named us #1 for Customer Satisfaction and Ease of Use for four years in a row. For more information, visit https://www.newswire.com.
Newswire is a wholly owned subsidiary of Issuer Direct, a leading communications and compliance company, providing solutions for both Public Relations and Investor Relations Professionals. For more information, please visit www.issuerdirect.com.
Source: Newswire
Share: