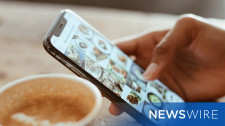 NEW YORK, May 13, 2022 (Newswire.com) - Newswire is an industry leader in press release distribution services, and for nearly 20 years and counting, this innovative technology company has experienced steady market growth and industry acclaim.
Part of this continued upward trajectory is Newswire's ability to leverage thought leadership content in a way that promotes the company in a positive light, which in turn builds authority and credibility.
Recently, Charlie Terenzio, the CMO and SVP of Media and Marketing Communications at Newswire, was featured in two thought leader-focused Forbes Communications Council articles titled, 12 Lessons Communications Pros Learned From Social Media Faux Pas and How to Build A Strong Employer Brand That Attracts Top Talent.
"Being part of Forbes Communications Council continues to be a rewarding experience to not only get the Newswire brand out there but also to help me grow as a professional and share my experiences with others," said Terenzio. "At Newswire, we believe in the value of thought leadership content and these features help us show, not tell our customers how impactful they can be."
Forbes Communications Council is an invite-only organization for senior-level communications and public relations executives to share their insights on various industry-driven topics.
To learn more about how Newswire's integrated solutions are helping small and midsize businesses craft newsworthy content, deliver strategic media pitches, earn media mentions, grow their audience, expand their reach, and implement an effective go-to-market strategy, visit Newswire.com today.
About Newswire
Newswire is a technology company that delivers press release distribution and press release campaigns by leveraging earned media outreach, SEO traffic and email marketing through campaign automation to help businesses land impactful media coverage, drive website traffic, generate leads and grow brand awareness. Through its industry-leading technology and its commitment to customer satisfaction, Newswire provides true value for businesses at a fraction of the cost of other solutions.
To learn more about press release distribution or the Media Advantage Plan, visit Newswire.com or check out why our customers have named us #1 for Customer Satisfaction in our industry for four years in a row.
Contact Information:
Charlie Terenzio
CMO and SVP of Media and Marketing Communications
Newswire
Office: 813-480-3766
Email: charlie@newswire.com
Source: Newswire
Share: