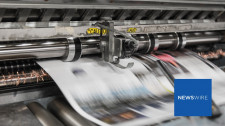 The news never stops, and Newswire continues to help small and midsize companies in a variety of industries break through the noise and build brand awareness.
NEW YORK, July 6, 2021 (Newswire.com) - Consumers' hunger for information keeps intensifying--one sign is that Google processes at least 5 billion searches a day, twice as much as it did five years ago. Companies of all sizes and industries can capitalize on that market attention with a holistic media and marketing strategy. 
That is where Newswire, an industry leader in press release distribution services, steps in. Newswire helps its Media & Marketing Guided Tour clients identify earned media opportunities, create compelling stories, launch targeted campaigns and stand out in their marketplace.
Newswire is able to accomplish this because of its robust SaaS technology, which empowers the Earned Media Advantage.
"From SEO and media outreach to lead generation, there are a lot of moving pieces when it comes to press release distribution," said Charlie Terenzio, CMO and SVP of Media and Marketing Communications at Newswire. "We've included all these important elements and more in our comprehensive platform that helps our clients distribute the right message to the right audience at the right time."
Newswire's press release software is a multifaceted resource that provides its clients with a number of tools that can be leveraged to reach and exceed their unique, defined goals. Some of these include:
Analytics - Collect and analyze key pieces of data to better understand the effectiveness of a company's campaigns.
Media Database - Customize a list of relevant regional and international contacts for hyper-focused targeting and reach.
Media Watch - Monitor content to understand the sentiment, track coverage, and uncover trends.
Press Release Distribution - Gain brand awareness and improve online visibility by distributing press releases to thousands of trusted media outlets. 
"Since 2004, we've been refining our software in order to evolve with the growing needs of the market to better serve our customers," Terenzio added. "The malleability of offerings has enabled us to maintain our G2 rank as No.1 in customer satisfaction in Press Release Distribution Software and PR Analytics Software for four consecutive years."
Visit Newswire.com today and learn more about how its integrated press release distribution solutions are helping organizations grow their audience, expand their reach, and implement an effective go-to-market strategy.
About Newswire
Newswire delivers press release and multimedia distribution software and services (SaaS) that empower the Earned Media Advantage: greater brand awareness, increased traffic, greater return on media and marketing communications spend, and the competitive edge. With over a decade of experience, Newswire continues to provide its customers with the ability to deliver the right message to the right audience at the right time through the right medium.
For more information, visit http://www.newswire.com.
Contact Information
Charlie Terenzio
CMO and SVP of Media and Marketing Communications 
Newswire
Office: 813-480-3766
Email: charlie@newswire.com
Source: Newswire.com
Share: