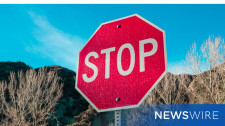 Seriously.
NEW YORK, September 10, 2021 (Newswire.com) - Doesn't it seem strange the industry leader in press release distribution services is telling companies to stop sending press releases?
That's because it is. 
We're not saying press releases aren't a powerful marketing tool. 
In fact, we're saying the exact opposite. But, we do want companies to stop sending press releases the old-fashioned way. 
You know, the ones companies would draft when they had an announcement to make? They'd go through the motions and hope someone would pick up their story and run it in the news.
Sound familiar?
Well, hoping your press releases work won't make them perform any better. 
You have to be certain your press releases are working for you and that's exactly what we're doing at Newswire. 
Through our Media Advantage Program (MAP), we're helping small and midsize companies of all industries drive hundreds of media mentions, thousands of marketing qualified and sales qualified leads, and more search traffic for top keywords.
"We're revolutionizing the way companies leverage press releases," said Charlie Terenzio, CMO and SVP of Media and Marketing Communications at Newswire. "They're more than just an official way to send a message. Press releases are a creative marketing vehicle companies can use to meet their target audience where they are and capture the attention of the media."
Newswire's approach to press release distribution is breathing new life into this once stale marketing initiative.
"What we're doing is a total shake-up of the industry," Terenzio noted. "If companies want to make an impact and take their piece of the pie, they're going to have to start using press releases as the main initiative in their overall marketing strategies."
It's one thing to say press releases work, and it's another to show it. 
Newswire can show it. 
Companies that are part of Newswire's MAP program are securing earned media mentions in top publications like Forbes, The Wall Street Journal, Business Insider, CNBC, USA Today, and more. 
But, it doesn't stop there. The award-winning company recently announced network enrichments and upgrades to its platform which emphasizes its commitment to the customer in helping them distribute the right message to the right audience at the right time. 
If you want to shake the dust off your current press release strategy and trade up for access to robust distribution lists (AKA access to thousands of top-tier media publications), crafting compelling stories your target audience actually cares about and getting your brand name out there with earned media mentions in relevant industry publications, contact us today. 
And, if that deal doesn't sound sweet enough, here's 10% off your next press release as the cherry on top. 
About Newswire
Newswire delivers its best-in-class technology as a service to provide high-impact press release distribution empowering the Media Advantage: greater brand awareness through earned media, increased traffic, greater search engine recognition, more leads, and increased sales.
Newswire is the only one in the industry that provides the Media Advantage Plan "MAP" that provides press release campaign automation that delivers press releases, media outreach and targeted commercial marketing to provide customers the going to market advantage required to compete for the mindshare and market share needed to accelerate sales. The "MAP" provides Newswire experts that customize a media and marketing communications plan and platform that ensures timely campaign production, and in a cost-effective manner that produces more value.
To learn more about press release distribution or the Media Advantage Plan, visit Newswire.com and check out why our customers have named us #1 for Customer Satisfaction in our industry for four years in a row.
For more information, visit http://www.newswire.com.
Contact Information:
Charlie Terenzio
CMO and SVP of Media and Marketing Communications
Newswire
Office: 813-480-3766
Email: charlie@newswire.com
Source: Newswire.com
Share: