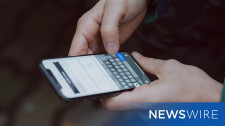 NEW YORK, April 19, 2022 (Newswire.com) - Since 2005, Newswire, an industry leader in press release distribution services, has helped small and midsize companies distribute the right message to the right audience at the right time.
The driving force behind their approach is strategic press release distribution, which facilitates positive outcomes such as brand awareness, increased website traffic, improved search engine optimization (SEO) performance and sales.
To harness the power of press releases, Newswire understands that distribution efforts are just as important as the actual press release content.
"At Newswire, we place an emphasis on both content creation and distribution to help our clients turn their owned media into earned media," said Charlie Terenzio, CMO and SVP of Media and Marketing Communications at Newswire.
To strengthen its commitment to customer success, Newswire continues to develop an enriched press release distribution network for its clients.
This best-in-class technology delivered as a service is easy to use, comprehensive, targeted and cost-effective. Newswire's singular solution provides companies of all sizes and industries with press release distribution technology that targets high-value media and commercial outlets.
Newswire works with companies in a variety of industries including AI technology, cryptocurrency, healthcare, health and wellness, education, entertainment, pharmaceutical, real estate, technology, and more.
No matter the industry, Newswire's targeted distribution helps brands position themselves as thought leaders in their industries and deliver messaging their target audience actually wants to read in a way they want to consume it.
"Our refined and enhanced level of targeting is essential in helping brands develop and implement a go-to-market strategy, earn new business and gain greater recognition in their industries," added Terenzio.
To learn more about how Newswire's integrated solutions are helping small and midsize businesses craft newsworthy content, deliver strategic media pitches, earn media mentions, grow their audience, expand their reach, and implement an effective go-to-market strategy, visit Newswire.com today.
About Newswire
Newswire is a technology company that delivers press release distribution and press release campaigns by leveraging earned media outreach, SEO traffic and email marketing through campaign automation to help businesses land impactful media coverage, drive website traffic, generate leads and grow brand awareness. Through its industry-leading technology and its commitment to customer satisfaction, Newswire provides true value for businesses at a fraction of the cost of other solutions.
To learn more about press release distribution or the Media Advantage Plan, visit Newswire.com or check out why our customers have named us #1 for Customer Satisfaction in our industry for four years in a row.
Contact Information:
Charlie Terenzio
CMO and SVP of Media and Marketing Communications
Newswire
Office: 813-480-3766
Email: charlie@newswire.com
Source: Newswire
Share: