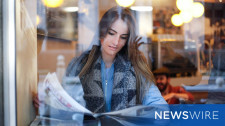 NEW YORK, September 16, 2021 (Newswire.com) - Let's play out a scenario, shall we?
Your newsworthy story was just picked up by top-tier publications such as AP News, Business Journals, Entrepreneur, and TIME. 
You're ecstatic because your company has expanded its reach to millions of people that visit these sites every month. 
You've also taken each article and strategically shared it across your social media channels. Your followers and peers are impressed. 
Could it get any better?
You might think you've gone as far as you can with these earned media mentions. But the truth is, you've only reached the goal line. 
Newswire can get you in the endzone. 
Yes, these features and mentions are excellent for building brand awareness, generating website traffic, and earning the trust of the consumer and those in the industry, but they could be doing more. 
They could be generating leads. 
Tech companies that are part of our Media Advantage Plan (MAP) have a unique edge over their competition. The edge comes by way of our enriched press release distribution networks that get our clients' press releases in front of the right audiences, our robust SaaS platform that feeds them with unique data to influence their strategy and enhance performance, as well as access to our team of Media and Marketing experts, who leverage their years of experience to develop and implement comprehensive strategies. 
All of these factors work together to empower our clients to distribute the right message to the right audience at the right time and generate marketing and sales qualified leads by repurposing press release distribution campaigns with email marketing. 
In fact, we've helped MAP clients across all industries leverage a consistent cadence of press release distribution campaigns to land media coverage in outlets like Axios, Business Insider, CNBC, Forbes, The Wall Street Journal, USA Today, and collect an average of 30 leads per month.
"Competition in the tech industry is fierce," said Charlie Terenzio, CMO and SVP of Media and Marketing Communications at Newswire. "Press releases are a marketing tool tech companies can use to amplify their brand's story and drive leads that create revenue."
If you need a boost, we're here to help. Take advantage of our free Media and Marketing Assessments along with 10% off your next press release.
Can you afford to ignore this opportunity?
About Newswire
Newswire delivers its best-in-class technology as a service to provide high-impact press release distribution empowering the Media Advantage: greater brand awareness through earned media, increased traffic, greater search engine recognition, more leads, and increased sales.
Newswire is the only one in the industry that provides the Media Advantage Plan "MAP" that provides press release campaign automation that delivers press releases, media outreach and targeted commercial marketing to provide customers the going to market advantage required to compete for the mindshare and market share needed to accelerate sales. The "MAP" provides Newswire experts that customize a media and marketing communications plan and platform that ensures timely campaign production, and in a cost-effective manner that produces more value.
To learn more about press release distribution or the Media Advantage Plan, visit Newswire.com and check out why our customers have named us #1 for Customer Satisfaction in our industry for four years in a row.
For more information, visit http://www.newswire.com.
Contact Information:
Charlie Terenzio
CMO and SVP of Media and Marketing Communications
Newswire
Office: 813-480-3766
Source: Newswire
Share: