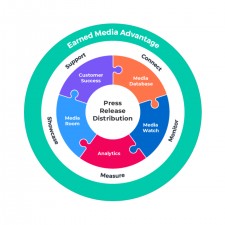 Newswire's EMA GT was able to help the tech leader capture placements in Media Post, NBC, and more.
NEW YORK, July 2, 2020 (Newswire.com) - With the help of Newswire's Earned Media Advantage Guided Tour (EMA GT), a leading tech platform was able to achieve meaningful coverage from a variety of respected industry outlets. Newswire's team of Earned Media Advantage Strategists implemented strategic distribution and outreach campaigns that resulted in enhanced thought leadership content opportunities for the CEO, as well as increased brand awareness for the company as a whole.
Newswire's team assessed the needs of the company in an effort to improve their media, marketing, and communications strategy. In addition, the team worked to develop relevant content and optimized storylines in order to get the attention of relevant media outlets. This resulted in some major pickups for the platform, as they received coverage from outlets such as MediaPost, NBC, and iHeartRadio.
"In this instance, we immediately recognized the company's need for enhanced content generation and optimization," said Charlie Terenzio, Newswire's VP Earned Media Advantage Business. "The platform itself already had a large audience, and they had stories that were notable. The main challenge that we sought to resolve was their story presentation. Having a great story is only half of the battle - the other half is presenting it professionally so that media personnel recognize its value." 
Two of the most important aspects of the Guided Tour are the technology and networking components that power it. EMA GT customers are able to leverage Newswire's best-in-class platform when conducting campaigns. This software, when combined with the expertise of the Earned Media Advantage Strategists, provides customers with media engagement opportunities that they would otherwise not be able to acquire. 
"We see cases like this very often, where clients are unable to launch efficient campaigns on their own due to a lack of resources. We understand their challenges and our expert team is here to support their business objectives," said Anthony Santiago, Newswire's VP of Marketing. "Together, we provide a strong platform, networking opportunities, and a consultative approach to launch efficient campaigns without the need for additional staff."
Tech companies are facing crowded news cycles, and the ongoing global health crisis has made it challenging to earn recognition from the media. Newswire's EMA GT provides an integrated approach using media and marketing communications to keep the public and media well-informed. 
The EMA GT empowers businesses with best-in-class science, processes, and technology to help them achieve greater brand awareness, increased traffic, and greater return on overall media and marketing spend. In turn, companies can secure a competitive advantage as they position themselves as leaders and authoritative sources within their respective industries. 
Learn how to enhance your media engagement strategy and achieve greater brand awareness with Newswire's Earned Media Advantage Guided Tour. 
About Newswire​
Newswire delivers press release and multimedia distribution software and services (SaaS) that empower the Earned Media Advantage: greater brand awareness, increased traffic, greater return on media and marketing communications spend and the competitive edge. With over a decade of experience, Newswire continues to provide its customers with the ability to deliver the right message to the right audience at the right time through the right medium.​
To learn more about how Newswire can help you, visit http://www.newswire.com.​
Contact Information
Charlie Terenzio
VP of Earned Media Advantage Business 
Newswire
Office: 813-480-3766
Email: charlie@newswire.com
Source: Newswire
Share: