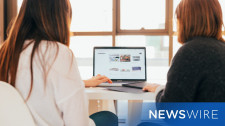 Newswire shares the positive business outcomes brands can achieve by delegating their press release distribution efforts.
NEW YORK, April 20, 2022 (Newswire.com) - Many small business owners understand that the daily demands can be overwhelming. If they spend time on one task, another falls through the cracks.
It's a never-ending juggling act. But, rather than simply trying to stay afloat, small business owners can leverage the power of delegation to create space and time to focus on other initiatives that'll move the needle.
This is especially true for media and marketing communications efforts. From social media marketing to content creation, paid advertising and everything in between, there are various channels businesses can use to build brand awareness, attract website visitors, improve SEO, and increase sales.
But one that stands out for its effectiveness is press release distribution. As an industry leader, Newswire helps companies of all sizes and industries harness the power of press release distribution to turn owned media into earned media.
"Consistent and strategic press release distribution gives brands the platform to stand out in a crowded marketplace and build authority and credibility in their respective industries," said Charlie Terenzio, CMO and SVP of Media and Marketing Communications at Newswire.
Since 2005, companies have delegated their press release distribution efforts to the experts at Newswire. And as a result, the company created its Media Advantage Plan (MAP) program.
This comprehensive, full-service program provides companies with the support needed to execute strategic outreach, and earn valuable media mentions among other positive outcomes.
"Our MAP program is the ultimate form of delegation for small businesses. When a brand leans on our award-winning solutions they're able to reallocate their time to focus on other important tasks that move their company in the right direction toward success," added Terenzio.
Beyond the power of delegation, Newswire's MAP alleviates the stress of not having to hire or train new staff to generate positive results.
That's because Newswire's experts act as an extension of their clients' teams to create and implement an integrated media and marketing communications strategy to better tell the company's story through press releases and generate real results and true value.
To learn more about how Newswire's integrated solutions are helping small and midsize businesses craft newsworthy content, deliver strategic media pitches, earn media mentions, grow their audience, expand their reach, and implement an effective go-to-market strategy, visit Newswire.com today.
About Newswire
Newswire is a technology company that delivers press release distribution and press release campaigns by leveraging earned media outreach, SEO traffic and email marketing through campaign automation to help businesses land impactful media coverage, drive website traffic, generate leads and grow brand awareness. Through its industry-leading technology and its commitment to customer satisfaction, Newswire provides true value for businesses at a fraction of the cost of other solutions.
To learn more about press release distribution or the Media Advantage Plan, visit Newswire.com or check out why our customers have named us #1 for Customer Satisfaction in our industry for four years in a row.
Contact Information:
Charlie Terenzio
CMO and SVP of Media and Marketing Communications
Newswire
Office: 813-480-3766
Email: charlie@newswire.com
Source: Newswire
Share: