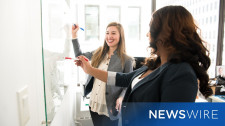 Newswire shares viable press release distribution goals companies can use to measure success and make valuable strategy adjustments.
NEW YORK, May 3, 2022 (Newswire.com) - Benjamin Franklin has been quoted as saying, "If you fail to plan, you are planning to fail."
This is especially true for press release distribution. And, as an industry leader, Newswire employs the use of strategic press release distribution to help companies turn their owned media into earned media.
In order to achieve positive outcomes, a company must fully understand what they're trying to achieve through press release distribution.
"Goals are the North Star that guides a company's strategy," said Charlie Terenzio, CMO and SVP of Media and Marketing Communications at Newswire.
Newswire's Media Advantage Plan (MAP) leans into the importance of defining press release distribution goals to better inform the unique strategies that help its clients distribute the right message to the right audience at the right time.
What are attainable goals a company can set for its press release distribution efforts? Newswire shares three ideas:
Align marketing efforts - Whether it's attracting subscribers to a YouTube channel or increasing the number of downloads for a new app, businesses set goals for various marketing campaigns. When doing the same for press release distribution, take into account the goals set for other marketing initiatives and find ways to align those efforts. For example, press release campaigns can include calls-to-action that send readers to the YouTube channel or a landing page where they can download the app.
Earn media mentions - Securing features in relevant and popular publications is a great way for brands to increase exposure, build brand awareness, expand reach, and position themselves as leaders in their respective industries. Setting this goal can help companies do their due diligence in understanding their target audience and crafting press release content that speaks to their needs, questions, pain points, interests and more.
Improve SEO performance - Ranking for specific keywords can help a company stay top-of-mind with its target audience. That's because their content will be served to users based on their search engine queries. Press releases are a viable marketing tool brands can use to improve their search engine optimization (SEO) performance and in turn, improve their visibility and attract website traffic.
"Goal setting is a pivotal step in the press release distribution process, and that's why we place such an emphasis on it here at Newswire," added Terenzio. "The ideas we shared are just the tip of the iceberg. Companies that are ready to take their media and marketing communications to the next level should consider a conversation with our team to learn how we can help them expand their digital presence."
To learn more about how Newswire's integrated solutions are helping small and midsize businesses craft newsworthy content, deliver strategic media pitches, earn media mentions, grow their audience, expand their reach, and implement an effective go-to-market strategy, visit Newswire.com today.
About Newswire
Newswire is a technology company that delivers press release distribution and press release campaigns by leveraging earned media outreach, SEO traffic and email marketing through campaign automation to help businesses land impactful media coverage, drive website traffic, generate leads and grow brand awareness. Through its industry-leading technology and its commitment to customer satisfaction, Newswire provides true value for businesses at a fraction of the cost of other solutions.
To learn more about press release distribution or the Media Advantage Plan, visit Newswire.com or check out why our customers have named us #1 for Customer Satisfaction in our industry for four years in a row.
Contact Information:
Charlie Terenzio
CMO and SVP of Media and Marketing Communications
Newswire
Office: 813-480-3766
Email: charlie@newswire.com
Source: Newswire
Share: