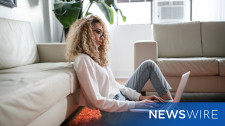 NEW YORK, May 4, 2022 (Newswire.com) - The Content Marketing Institute defines content marketing as "a strategic approach focused on creating and distributing valuable, relevant, and consistent content to attract and retain a clearly-defined audience - and, ultimately, to drive profitable customer action."
Examples of content marketing include, but are not limited to, blogs, educational resources, emails, newsletters, social media posts and videos.
Another powerful content marketing channel is one that Newswire knows well and that's press releases.
As an industry leader in press release distribution, Newswire has harnessed the power of this content marketing channel to help companies of all sizes and industries amplify their message by turning their owned media into earned media.
No matter the channel, strategic content creation and distribution can help brands stand out from their competition and secure their piece of market share.
But how do brands achieve these results?
The first step is developing a content marketing strategy.
"Success in all areas of marketing starts with a comprehensive strategy," said Charlie Terenzio, CMO and SVP of Media and Marketing Communications at Newswire. "When it comes to content marketing, in particular, developing and implementing a strategy will help brands adjust their sails when necessary and stay the course towards success."
Newswire has assembled a list of three questions brands can ask themselves when developing a content marketing strategy.
Who's your audience? Everyone isn't an audience. That's why brands need to take the time to understand who makes up their target audience. What are their pain points, frequently asked questions, interests? What type of content resonates best with them? Is it a press release? Quick updates on Twitter? Brands need to step into the shoes of their target audience before creating content.
What's your brand voice? A brand voice infuses a layer of humanization into a content strategy. Think of it as you would a person's personality. Some people are more straightforward and to the point. Others are more personable and relatable. When deciding on your brand voice, make sure it's authentic, aligns with your mission and clearly speaks to your target audience.
What makes your brand stand out? For brands in particularly crowded industries, identifying and amplifying key differentiators is essential. A brand's uniqueness is a topic that fuels the creation of content that's different from anything else consumers have seen.
"Questions lead to clarity and asking the right ones can help brands of all industries distribute the right message to the right audience at the right time," added Terenzio.
To learn more about how Newswire's integrated solutions are helping brands develop comprehensive strategies, craft newsworthy content, deliver strategic media pitches, earn media mentions, grow their audience, expand their reach and more, visit Newswire.com today.
About Newswire
Newswire is a technology company that delivers press release distribution and press release campaigns by leveraging earned media outreach, SEO traffic and email marketing through campaign automation to help businesses land impactful media coverage, drive website traffic, generate leads and grow brand awareness. Through its industry-leading technology and its commitment to customer satisfaction, Newswire provides true value for businesses at a fraction of the cost of other solutions.
To learn more about press release distribution or the Media Advantage Plan, visit Newswire.com or check out why our customers have named us #1 for Customer Satisfaction in our industry for four years in a row.
Contact Information:
Charlie Terenzio
CMO and SVP of Media and Marketing Communications
Newswire
Office: 813-480-3766
Email: charlie@newswire.com
Source: Newswire
Share: