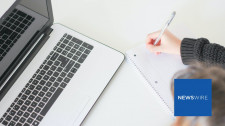 Newswire shares how to properly structure a press release using the inverted pyramid.
NEW YORK, July 20, 2021 (Newswire.com) - Newswire, an industry leader in press release distribution, has been leveraging its robust SaaS software and the knowledge of its Media and Marketing experts to help its clients distribute the right message to the right audience at the right time.
A major component of their approach is properly structuring press releases using the inverted pyramid.
"The inverted pyramid is a tried and true method that helps writers address the most important information at the beginning of the press release," said Charlie Terenzio, CMO and SVP of Media and Marketing Communications at Newswire. "Journalists, reporters, and media professionals are busy, and using this press release format will help them quickly understand if a company's content is a story they want to pursue."
To build on this topic, Newswire has created a Smart Start educational guide that shares helpful advice on how to improve press release writing with the inverted pyramid. 
This informational resource addresses:
The basics of a press release.
The importance of press release distribution.
How to use the inverted pyramid.
"Press release distribution, when carried out correctly, can help companies, no matter their size or industry, share newsworthy information with their target audience," Terenzio added. "Our team at Newswire continues to educate and work alongside our clients to make sure they're creating compelling stories and launching target pitches to connect their message with their target audience and the media."
Download the Inverted Pyramid Smart Start guide to learn more. 
About Newswire
Newswire delivers press releases and multimedia distribution software and services (SaaS) that empower the Earned Media Advantage: greater brand awareness, increased traffic, greater return on media and marketing communications spend, and the competitive edge. With over a decade of experience, Newswire continues to provide its customers with the ability to deliver the right message to the right audience at the right time through the right medium.
For more information, visit http://www.newswire.com.
Contact Information
Charlie Terenzio
CMO and SVP of Media and Marketing Communications 
Newswire
Office: 813-480-3766
Email: charlie@newswire.com
Source: Newswire
Share: