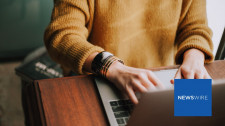 In the world of business, there are a number of reasons why people buy from certain brands, but a major one is credibility.
NEW YORK, August 6, 2021 (Newswire.com) - Newswire, an industry leader in press release distribution, media and marketing communications, has long been helping small and midsize companies in a variety of industries distribute the right message to the right audience at the right time.
A major area of the company's focus is press release distribution. Through the consistent publication of newsworthy press releases, businesses have the unique opportunity to improve their credibility and authority within their specific industry. 
"Press releases are a marketing vehicle that shouldn't be overlooked," said Charlie Terenzio, CMO and SVP of Media and Marketing Communications at Newswire. "Press release distribution gives a company the means to get their messaging in front of their target audience and relevant media publications, which in turn builds brand awareness, credibility, and in time, can improve their bottom line."
For nearly 20 years and counting, Newswire has been building on its robust SaaS platform and press release distribution services to evolve with the market and better serve their customers. 
From their experience, the award-winning company has highlighted five ways a company can establish credibility with press releases:
Newsworthiness - Press releases should cover newsworthy and relevant topics, provide factual and valuable data, and information to support the messaging. 
Focus on Facts - Companies should address the most important information (who, what, when, where, why and how) with a tried and true press release format: the inverted pyramid. 
Storytelling - Whether it's a press release for an event, the launch of a new product, or the promotion of an employee, sharing the story behind the announcement can help explain why the information is important and the media should care. 
Positioning - Once the most important facts have been addressed, it's helpful to position the company within its industry as a whole. Leverage the use of facts and figures to showcase knowledge and experience in the space as well. 
Quotes - This is a must in every press release and should showcase the expertise of a team member within a company. Including quotes from topic experts is a great way to boost credibility and authority. 
"The main function of a press release is to help companies capture the attention of their target audience and the media," Terenzio added. "From the topic of the press release to the quotes you include and everything in between, these components give companies of all sizes and industries the opportunity to gain credibility within their niche."
Visit Newswire.com today and learn more about how Newswire's integrated solutions are helping organizations grow their audience, expand their reach, and implement an effective go-to-market strategy.
About Newswire
Newswire delivers press releases and multimedia distribution software and services (SaaS) that empower the Earned Media Advantage: greater brand awareness, increased traffic, greater return on media and marketing communications spend, and the competitive edge. With over a decade of experience, Newswire continues to provide its customers with the ability to deliver the right message to the right audience at the right time through the right medium.
For more information, visit http://www.newswire.com.
Contact Information:
Charlie Terenzio
CMO and SVP of Media and Marketing Communications 
Newswire
Office: 813-480-3766
Email: charlie@newswire.com
Source: Newswire
Share: