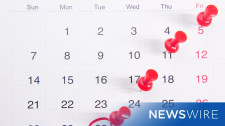 NEW YORK, March 24, 2022 (Newswire.com) - For nearly 20 years and counting, Newswire, an industry leader in press release distribution services, has continually evolved its business to help its clients turn their owned media into earned media. An integral part of their success is strategic and consistent press release distribution.
Regardless of a company's size or industry, press releases are a valuable and powerful marketing initiative that builds brand awareness, attracts website traffic, improves search engine optimization (SEO) performance and generates leads.
"At Newswire, we've given traditional press release distribution a shakeup in the best way possible and are helping brands distribute the right message to the right audience at the right time," said Charlie Terenzio, CMO and SVP of Media and Marketing Communications at Newswire.
Press releases, no matter the announcement, when written correctly address the who, what, where, when, why, and how.
Below are some of the benefits associated with consistent press release distribution:
Marketing vehicle - Press releases are a great resource that can positively impact the way a brand is perceived by its target audience. When drafting a press release, companies should include valuable information about their brand and the products and services it offers. Doing so can almost always guarantee the right information is being distributed to the right audience at the right time.
Control the narrative - Press releases give companies the opportunity to control the narrative. Companies can retell a story by prioritizing what's important, explain its brand's vision, share the benefits of its products and services, provide insight into its short-term and long-term goals and address any statements made about the company by external parties.
Strategic targeting - A major benefit of press release distribution is the ability to cast a wider net to reach relevant media publications. Targeted distribution lists, such as the ones Newswire offers, help companies turn their owned media into earned media.
"People spend most of their time online consuming content and press release distribution is an effective way for companies to meet their target audience where they are and deliver their content accordingly," added Terenzio.
To learn more about how Newswire's integrated solutions are helping small to midsize companies grow their audience, expand their reach, and implement an effective go-to-market strategy, visit Newswire.com today.
About Newswire
Newswire delivers press releases and multimedia distribution software and services (SaaS) that empower the Earned Media Advantage: greater brand awareness, increased traffic, greater return on media and marketing communications spend, and the competitive edge. With over a decade of experience, Newswire continues to provide its customers with the ability to deliver the right message to the right audience at the right time through the right medium.
For more information, visit http://www.newswire.com.
Contact Information:
Charlie Terenzio
CMO and SVP of Media and Marketing Communications
Newswire
Office: 813-480-3766
Email: charlie@newswire.com
Source: Newswire
Share: