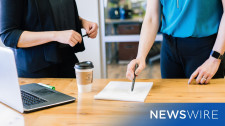 Honesty. Trust. Communication.
NEW YORK, October 5, 2021 (Newswire.com) - These are a few of the characteristics that factor into a good relationship, and the same applies to business partnerships.
When small and midsize companies set out to find the one, meaning the right press release distribution company to amplify their message, they're looking for the real deal.
Though there might not be a final rose ceremony, when it comes to partnering with a press release distribution company like Newswire, you can rest assured you made the right choice. 
"We've been a leader in press release distribution for nearly 20 years and counting," said Charlie Terenzio, CMO and SVP of Media and Marketing Communications at Newswire. "In that time, we've consistently grown our business to evolve with the market and create valuable partnerships with our clients to expand their reach and improve their bottom lines."
Much like with any relationship in life and in business, you look for good qualities in your other half to create a strong partnership. When you work with our team you can expect:
Honesty - Inflated and head-scratching numbers have no place in our platform. We saved the fluff for your pillows. What you do get is accurate, relevant, and valuable data that we'll use to meet and exceed your goals.
Trust - We build trust through our results. It's one thing to say we're the industry leader in press release distribution and it's another to actually show you we're the industry leader in press release distribution. This year alone, our results are hundreds of media mentions, thousands of marketing-qualified and sales-qualified leads, and more search traffic for top keywords.
Communication - Clients that are part of our Media Advantage Plan (MAP) have direct access to their dedicated account team who serve as an extension of yours to help achieve your media and marketing communications goals. Constant communication and quarterly business reviews ensure all parties involved are on the same page and working towards a shared goal. 
"CEOs, in particular, want real results that translate into key performance indicators (KPIs)," Terenzio added. "Media mentions, lead generation, and sales are the types of KPIs CEOs are keeping an eye on and the ones we're creating for our clients."
As an award-winning company, Newswire has combined its enriched press release distribution network, robust SaaS platform, and the expertise of its Media and Marketing team to help its MAP clients distribute the right message to the right audience at the right time and drive real results.
If you're ready to take the next step and get serious, act now and get a free Media and Marketing assessment and 10% off your next press release.
About Newswire
Newswire delivers its best-in-class technology as a service to provide high-impact press release distribution, empowering the Media Advantage: greater brand awareness through earned media, increased traffic, greater search engine recognition, more leads, and increased sales.
Newswire is the only one in the industry that provides the Media Advantage Plan "MAP" that provides press release campaign automation that delivers press releases, media outreach and targeted commercial marketing to provide customers the going to market advantage required to compete for the mindshare and market share needed to accelerate sales. The "MAP" provides Newswire experts that customize a media and marketing communications plan and platform that ensures timely campaign production, and in a cost-effective manner that produces more value.
To learn more about press release distribution or the Media Advantage Plan, visit Newswire.com and check out why our customers have named us #1 for Customer Satisfaction in our industry for four years in a row.
For more information, visit http://www.newswire.com.
Contact Information:
Charlie Terenzio
CMO and SVP of Media and Marketing Communications
Newswire
Office: 813-480-3766
Email: charlie@newswire.com
Source: Newswire
Share: